Mystic Guardians » Guardians » Clayper
| | | | | |
| --- | --- | --- | --- | --- |
| 1st evolution | | 2nd evolution | | 3rd evolution |
Clayper

While it may not look tough, the Clayper's hide is comparable to any other Rock Guardian.

Clayper evolves into Serpebble at level 17. Evolution items:
Rock Crystal x6
Rock Dust x6
Hour Glass x3
Serpebble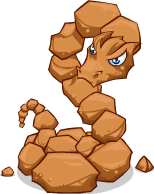 A Serpebble raised up off the ground should not be approached - the pose means it's preparing to strike!

Serpebble evolves into Boalder at level 37. Evolution items:
Rock Crystal (unknown)
Rock Dust (unknown)
Hour Glass (unknown)
Boalder
Fully grown Boalders can carve tunnels through solid rock at over 20mph, and tunnel through other Guardians at a comparable speed!

Boalder is the final evolution of Clayper.
Clayper

Ohhh a stone ! OHH no it's a snake !!!

Type:

Rock Guardian

Species:

A snake stone

Health:

Bad

Attack:

Ok

Defense:

Ok

Special Attack:

Good

Special Defense:

Good

Speed:

Ok

Note:

Clayper is cool
Location
Clayper is uncommon in The Worm's Lair in The Northern Desert. It is the only location as of now where Clayper, or if you have a high enough trainer level, Serpebble can be caught.

Moves
Stats
Level 25 (captured at level 11)
Health: 238
Attack: 38
Defence: 61
Special Attack: 58
Special Defence: 38
Speed: 33

Trivia
It is said "A Serpebble raised up off the ground should not be approached" yet Serpebble is always in its pose.
Ad blocker interference detected!
Wikia is a free-to-use site that makes money from advertising. We have a modified experience for viewers using ad blockers

Wikia is not accessible if you've made further modifications. Remove the custom ad blocker rule(s) and the page will load as expected.