Mystic Guardians » Guardians » Crabby
| | | | | |
| --- | --- | --- | --- | --- |
| 1st evolution | | 2nd evolution | | 3rd evolution |
Crabby

While its tiny pincers are easily avoided, Crabby's water attacks are not to be triffled with.
Crabby evolves into Crabbicle at level 12. Evolution items:


Water Crystal x2

Water Dust x2

Sand Dollar x1
Crabbicle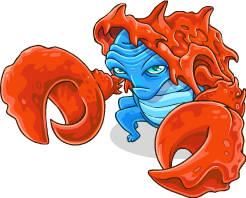 Each Crabbicle lives in the same shell from birth to death, meaning it is extremely tough to break through.
Crabbicle evolves into Crusticon at level 31. Evolution items:


Water Crystal x5

Water Dust x5

Sand Dollar x2
Crusticon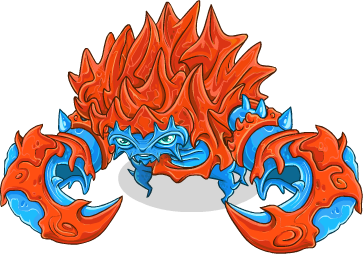 In its most evolved state, Crusticon's sharp pincers are equalled only by it's deadly water attacks.
Crusticon is the final evolution of Crabby.
Crabby

Cute little sucker isn't he?

Type:

Water Guardian

Species:

Crab

Health:

Good

Attack:

Good

Defense:

Ok

Special Attack:

Ok

Special Defense:

Bad

Speed:

Ok

Note:

Crusticon is not crusty or a con. Do not be fooled by his name.
Location
You can choose Crabby as your first Guardian at The New Haven Fairgrounds.
If you choose Vinibble, you get Crabby from Jill in The Tangled Forest.
You can also buy him from the Shady Vale Guardian Centre for 100 

Moves
Stats
Level: 30 (captured on level 1)
Health: 301
Attack: 46
Defense: 41
Special Attack: 71
Special Defense: 48
Speed: 41
Level: 32 (captured on level 1, perked by 4)
Health: 365 (402 cookied with 2 Healthy Cookies)
Attack: 41
Defense: 47
Special Attack: 87 (117 boosted)
Special Defense: 60
Speed: 44

–

FMF

(

talk

) 09:39, September 28, 2012 (UTC)
Stats
Crabbicle-Crusticon (Captured at Level 1)
Level 30
Level 31
2nd Evolution
Health
303
322
328
Attack
42
43
45
Defense
39
39
42
Special Attack
78
80
83
Special Defense
42
44
46
Speed
47
48
52
Trivia
Ad blocker interference detected!
Wikia is a free-to-use site that makes money from advertising. We have a modified experience for viewers using ad blockers

Wikia is not accessible if you've made further modifications. Remove the custom ad blocker rule(s) and the page will load as expected.