Mystic Guardians » Guardians » Faunite
| | | | | |
| --- | --- | --- | --- | --- |
| 1st evolution | | 2nd evolution | | 3rd evolution |
Faunite

Dozing Faunite have occasionally been mistaken for piles of rock and bramble in the swamp.
Faunite evolves into Deerite at level 24. Evolution items:
Rock Crystal x6
Rock Dust x6
Hour Glass x3
Deerite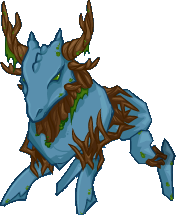 Though weighed down by their rock bodies, the agile Deerite can leap clear across many of the swamp's mucky creeks and rivers.
Deerite evolves into Stagite at level 45. Evolution items:
Rock Crystal (unknown)
Rock Dust (unknown)
Hour Glass (unknown)
Stagite
Only the most wise Deerite manage to reach their third evolution, and from their age comes combat
skill and deviousness. Stagite is the final evolution of Faunite.
Faunite

XXX

Type:

Rock Guardian

Species:

XXX

Health:

XXX

Attack:

XXX

Defense:

XXX

Special Attack:

XXX

Special Defense:

XXX

Speed:

XXX

Note:

XXX
Location
The Faunite is currently only available in the shop, but was formerly available as the PvP prize.
Moves
Stats
Owner... Bhadi
Level: 30 Deerite
Health: 414 (+10 on evo)
Attack: 46 (+2 on evo)
Defense: 35 (+1 on evo)
Special Attack: 81 (+4 on evo)
Special Defense: 43 (+2 on evo)
Speed: 57 (+3 on evo)
Stats (Bhadington)
Faunite
Level 1
Level 24
Level 27
Level 30
Health
37
290
349
418
Attack
15
33
36
39
Defense
13
38
39
43
Special Attack
15
62
67
72
Special Defense
15
40
43
43
Speed
15
40
44
Trivia
Onomatology
The name is a compound of fawn (young deer), deer/stag (adult male deer) + ~ite (a suffix denoting a rock or mineral - see at wiktionary)
Ad blocker interference detected!
Wikia is a free-to-use site that makes money from advertising. We have a modified experience for viewers using ad blockers

Wikia is not accessible if you've made further modifications. Remove the custom ad blocker rule(s) and the page will load as expected.