Mystic Guardians » Guardians » Feng
| | | | | |
| --- | --- | --- | --- | --- |
| 1st evolution | | 2nd evolution | | 3rd evolution |
Feng

Don't be fooled, Feng's bite is much worse than his bark.
Feng evolves into Fengal at level 14. Evolution items:


Evolution Crystal x2

Evolution Dust x2


Bread x1
Fengal
Packs of wild Fengal have been known to take down fully grown Oxin.
Fengal evolves into Fenrir at level 30. Evolution items:


Evolution Crystal x5

Evolution Dust x5


Bread x2
Fenrir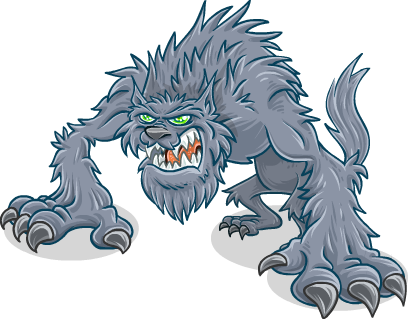 Fenrir's bite has been known to sheer through pure steel bars.
Fenrir is the final evolution of Feng.
Feng

A Feng. Woof!

Type:

Normal

Health:

Very bad

Attack:

Extremely good

Defense:

Horrible

Special Attack:

Very bad; doesn't need it though

Special Defense:

Very bad

Speed:

Ok
Location
Feng is common in all Forest areas and caves.

Moves
Stats
Level: 30 (captured on level 1)
Health: 338
Attack: 87
Defense: 39
Special Attack: 39
Special Defense: 44
Speed: 50
Level: 30 (captured on level 15, perked by 4)
--Scorpiany, Epic Mario Kart Wii Gamer (talk) 03:10, January 27, 2013 (UTC)Scorpiany
Health: 325
Attack: 91
Defense: 37
Special Attack: 41
Special Defense: 41
Speed: 41

Trivia