Mystic Guardians » Guardians » Gebble
| | | | | |
| --- | --- | --- | --- | --- |
| 1st evolution | | 2nd evolution | | 3rd evolution |
Gebble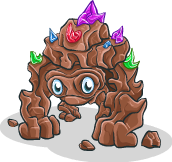 Gebble's small crystal spikes provide it with additional protection against most special attacks.
Gebble evolves into Gembler at level 27. Evolution items:
Rock Crystal x3
Rock Dust x3
Hour Glass x1
Gembler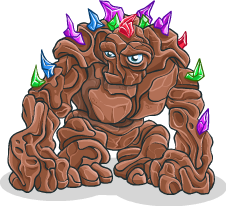 Gemblers can only be found naturally by looking in the deepest, darkest caves.
Gembler evolves into Grounder at level 48. Evolution items:
Rock Crystal (unknown)
Rock Dust (unknown)
Hour Glass (unknown)
Grounder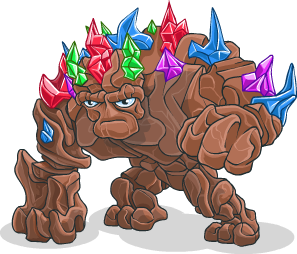 Rumor has it that only one Grounder has never been seen in the wild, due to how deep within the earth they lurk.
Grounder is the final evolution of Gebble.
Gebble

XXX

Type:

Rock Guardian

Species:

XXX

Health:

XXX

Attack:

XXX

Defense:

XXX

Special Attack:

XXX

Special Defense:

XXX

Speed:

XXX

Note:

XXX
Location
Gebble is uncommon in all mountain caves.

Moves
Stats
Level: 25 (captured on level 8)
Health: 253
Attack: 36
Defense: 33
Special Attack: 30
Special Defense: 68
Speed: 41
Bhadi
Stats

Gebble

(Captured at Level 6)

Level 15
Level 20
Level 25

Level 27

(Pre Evo)

Level 27

(Post Evo)

Level 30
Health
122
177
245
278
284
352
Attack
27
33
40
44
48
50
Defense
26
31
40
41
44
46
Special Attack
34
39
41
43
44
49
Special Defense
60
69
80
84
89
96
Speed
22
26
29
30
31
34
Trivia
Gebble and Gembler have extremly high special defence, making it very hard to weaken it. You have to use moves that reduce special defence such as Piercing Flame and Drip.
in the eastern vale range there is an NPC with a gebble named "Pebble"
Ad blocker interference detected!
Wikia is a free-to-use site that makes money from advertising. We have a modified experience for viewers using ad blockers

Wikia is not accessible if you've made further modifications. Remove the custom ad blocker rule(s) and the page will load as expected.