Mystic Guardians » Guardians » Jack
| | | | | |
| --- | --- | --- | --- | --- |
| 1st evolution | | 2nd evolution | | 3rd evolution |
Jack
He's the most innocent looking pumpkin Guardian in the game.

Jack evolves into Jacko at level 16. Evolution items:

Jacko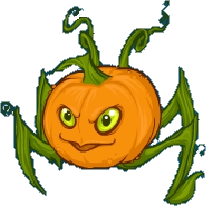 Jacko's soft gooey interior is protected by a hardened shell.
Jacko evolves into Jackarachnid at level 32. Evolution items:

Jackarachnid
Jackarachnid is deathly afraid of knives and candles.
Jack

Isn't a jack very cute ? <3

Type:

Nature Guardian

Species:

A pumpkin, then a spidey pumpkin

Health:

Very good

Attack:

Ok

Defense:

Ok

Special Attack:

Awesome

Special Defense:

Ok

Speed:

Bad

Note:

Jack is a very good guardian : cute and strong at the same time !
Jackarachnid is the final evolution of Jack.
Location
Jack is available for purchase in all Guardian Centres for 125 .
Jack was the Grand Prize of the PvP Arena 29/10/2012-04/11/2012.
Moves
Stats
| Stats Before Evolve (Obtained at Level 1. Perked by 4) | Level 32 |
| --- | --- |
| Health | 435 |
| Attack | 46 |
| Defense | 44 |
| Special Attack | 93  |
| Special Defense | 58  |
| Speed | 43 |
Iky's 

Stats (Unboosted. Perked by 10. Obtained Level 1)
Level 33
Health
459
Attack
64
Defense
46
Special Attack
116
Special Defense
58
Speed
44
Trivia
This was the last guardian to be added to the game.
Onomatology
The name `Jack` refers to Jack O' Lantern and was named in honor of Halloween 2012.
_____________________________________________________________________________________
Ad blocker interference detected!
Wikia is a free-to-use site that makes money from advertising. We have a modified experience for viewers using ad blockers

Wikia is not accessible if you've made further modifications. Remove the custom ad blocker rule(s) and the page will load as expected.