Mystic Guardians » Guardians » Muck
| | | | | |
| --- | --- | --- | --- | --- |
| 1st evolution | | 2nd evolution | | 3rd evolution |
Muck

Often mistaken for a simple pile of mud, juvenile Mucks are prolific tricksters.
Muck evolves into Mudbie at level 23. Evolution items:

Mudbie
Mudbie can spew mud and muck great distances, and move surprisingly quickly for their girth.
Mudbie evolves into Mudgor at level 42. Evolution items:

Mudgor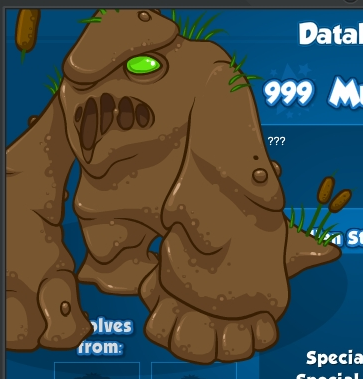 Half blinded by layer upon layer of mud, Mudgors are resistant to most attacks, and dish out large amounts of nature damage.
Mudgor is the final evolution of Muck.
Muck

XXX

Type:

Nature Guardian

Species:

XXX

Health:

XXX

Attack:

XXX

Defense:

XXX

Special Attack:

XXX

Special Defense:

XXX

Speed:

XXX

Note:

XXX
Moves
Location
Muck is available for purchase in all Guardian Centres for 125 .
Muck was the Grand Prize of the PvP Arena 12/11/2012-18/11/2012.
It will most likely become available in the swamp area when it is released.
Stats
| Gervax / ikillyou2553 | Stats | Stats |
| --- | --- | --- |
| Muck (Captured at Level 1) | Level 1 | Level 24 |
| Health | 41 | 267 |
| Attack | 14 | 36 |
| Defense | 16 | 41 |
| Special Attack | 17 | 74 |
| Special Defense | 17 | 74 |
| Speed | 10 | 31 |
| (Undefined user) | Stats |
| --- | --- |
| Muck (Captured at Level 1) | Level 30 |
| Health | 386 |
| Attack | 45 |
| Defense | 37 |
| Special Attack | 73 |
| Special Defense | 79 |
| Speed | 39 |
Trivia