Mystic Guardians » Guardians » Uberfeng
Uberfeng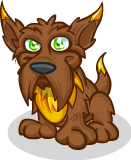 This is a level 9
Heroic Feng
with 195 HP.
Like other bosses, Uberfeng cannot be captured.
My tip: There is no need for a specific strategy, since the Uberfeng is relatively easy to defeat compared to other bosses. At the time you encounter this boss, you've probably leveled up at least one of your guardians to the point that they can defeat this one without resorting to power-lowering moves. Make sure that you've healed your guardians before battling Uberfeng, especially if you´ve been focusing on one guardian in particular. If your guardians are still relatively weak (ie. their under level 10), make sure to save up some healing potions for this battle.
Ad blocker interference detected!
Wikia is a free-to-use site that makes money from advertising. We have a modified experience for viewers using ad blockers

Wikia is not accessible if you've made further modifications. Remove the custom ad blocker rule(s) and the page will load as expected.