Mystic Guardians » Guardians » Vinibble
| | | | | |
| --- | --- | --- | --- | --- |
| 1st evolution | | 2nd evolution | | 3rd evolution |
Vinibble
Vinibble's cute nature should not be confused for docility. This Guardian's sharp thorns cause extreme damage.
Vinibble evolves into Vinibark at level 12. Evolution items:


Nature Crystal x2


Nature Dust x2


Branch x1
Vinibark
With its roots wrapped around it like armor, wild Vinibark should be approached with extreme care.
Vinibark evolves into Barkicus at level 31. Evolution items:


Nature Crystal x5


Nature Dust x5


Branch x2
Barkicus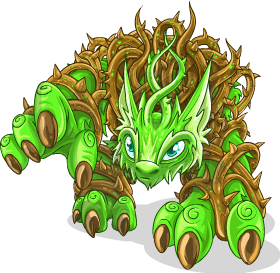 Barkicus's sharp thorns can be tossed at enemies like needles, and are quickly regrown.
Barkicus is the final evolution of Vinibble.
Vinnible

A Vinnible. They're so eco-friendly!

Type:

Nature Guardian

Species:

Viney Bear

Health:

Very Bad

Attack:

Very Bad

Defense:

Bad

Special Attack:

Poor

Special Defense:

Ok

Speed:

Ok

Note:

Scientists have not yet been able to actually identify Vinibble's species. Vinnible looks like a bear cub, Vinibark looks like a horse, and Barkicus looks like a dog. If you have any information about the possible species, please call (1-800)-Vinn-Voof or e-mail the Vinibble Research Center at: vinnibleresearch@yahoo.com.
Location
You can choose Vinibble as your first Guardian at The New Haven Fairgrounds.
If you choose Firball, you recieve Vinibble as your second starter guardian from Jill in The Tangled Forest.
You can also buy him from the Shady Vale Guardian Centre for 100 

Moves
Stats
Level: 31 (captured on level 1)
Health: 337
Attack: 49
Defense: 42
Special Attack: 84
Special Defense: 40
Speed: 56
| Ishu bagaria (talk) 00:46, September 27, 2012 (UTC) | Stats | |
| --- | --- | --- |
| Vinibark (Obtained at Level 1) - Evolved at 12 | Level 27 | Level 28 |
| Health | 259 | 275 |
| Attack | 33 | 35 |
| Defense | 43 | 43 |
| Special Attack | 78 | 80 |
| Special Defense | 35 | 35 |
| Speed | 40 | 41 |
Trivia
Ad blocker interference detected!
Wikia is a free-to-use site that makes money from advertising. We have a modified experience for viewers using ad blockers

Wikia is not accessible if you've made further modifications. Remove the custom ad blocker rule(s) and the page will load as expected.