Mystic Guardians » Guardians » Zaat
| | | | | |
| --- | --- | --- | --- | --- |
| 1st evolution | | 2nd evolution | | 3rd evolution |
Zaat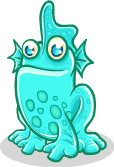 Barely more than a tadpole, Zaat can zip through water thanks to his stylish fins.
Zaat evolves into Zaatango at level 21. Evolution items:


Water Crystal x2

Water Dust x2

Sand Dollar x1
Zaatango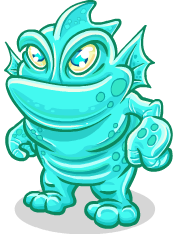 Zaatango's burly build makes hunting him easiest at the bottom of ponds, lakes, and rivers.
Zaatango evolves into Zaatzilla at level 35-42 Evolution items:


Water Crystal (unknown)

Water Dust (unknown)

Sand Dollar (unknown)
Zaatzilla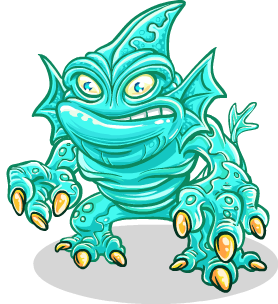 Only the most foolish trainers take on Zaatzilla without a lot of backup. His fearsome attacks are second to none.
Zaatzilla is the final evolution of Zaat.
Zaat

XXX

Type:

Water Guardian

Species:

XXX

Health:

XXX

Attack:

XXX

Defense:

XXX

Special Attack:

XXX

Special Defense:

XXX

Speed:

XXX

Note:

XXX
Location
Zaat is an uncommon Guardian in The Wooded Forest, The Telecore Cave, The Deep Forest and The Charred Forest. It can also be bought in any Guardian Centre for 25 
.

Moves
Stats
Level: 25 (captured on level 8)
Health: 236
Attack: 71
Defense: 39
Special Attack: 32
Special Defense: 37
Speed: 39
| Ishu bagaria (talk) 00:54, September 27, 2012 (UTC) | Stats |
| --- | --- |
| Zaatango (Captured at Level 6) - evolved at 21 | Level 30 |
| Health | 312 |
| Attack | 83 |
| Defense | 45 |
| Special Attack | 42 |
| Special Defense | 45 |
| Speed | 37 |
Strategy
Zaatango has great normal attacks for an elemental guardian, but it's elemental attacks are relatively weak.
Ad blocker interference detected!
Wikia is a free-to-use site that makes money from advertising. We have a modified experience for viewers using ad blockers

Wikia is not accessible if you've made further modifications. Remove the custom ad blocker rule(s) and the page will load as expected.