Mystic Guardians » Guardians » Mozzy
| | | | | |
| --- | --- | --- | --- | --- |
| 1st evolution | | 2nd evolution | | 3rd evolution |
Mozzy
Native to the desert, Mozzy has found ways to command the heat of the sands to attack his foes.

Mozzy evolves into Zilly at level 20. Evolution items:

Fire Crystal x6


Fire Dust x6


Hot Pepper x3
Zilly
More cautious than its less evolved form, Zilly has been known to scorch those who approach it too quickly.

Zilly evolves into Firefox at level 37. Evolution items:

Fire Crystal (unknown)


Fire Dust (unknown)


Hot Pepper (unknown)
Firefox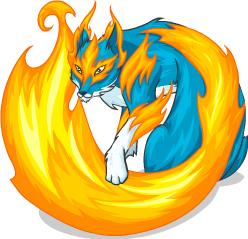 The Firefox's tail is made up entirely of one huge, constantly burning flame. Approach carefully!

Firefox is the final evolution of Mozzy.
Mozzy

XXX

Type:

Fire Guardian

Species:

XXX

Health:

XXX

Attack:

XXX

Defense:

XXX

Special Attack:

XXX

Special Defense:

XXX

Speed:

XXX

Note:

XXX
Location
Mozzy is common in all Desert areas.
It can also be bought for 75  

at the New Haven Guardian Center.
Moves
Stats
Level: 21 (captured on level 1)
Health: 184
Attack: 29
Defense: 54
Special Attack: 57
Special Defense: 31
Speed: 43
–

FMF

(

talk

) 08:36, September 27, 2012 (UTC)
Stats
Mozzy (Captured at Level 12)
Level 12
Level 13
Health
89
96
Attack
23
26
Defense
30
31
Special Attack
37
38
Special Defense
23
24
Speed
22
23
Trivia
Onomatology
Ad blocker interference detected!
Wikia is a free-to-use site that makes money from advertising. We have a modified experience for viewers using ad blockers

Wikia is not accessible if you've made further modifications. Remove the custom ad blocker rule(s) and the page will load as expected.